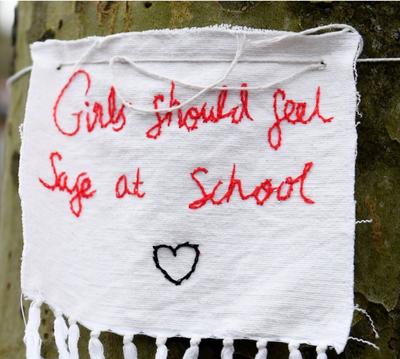 It's been called the 'Me Too' moment for education as a growing number of reports have emerged of sexual harassment and abuse in schools. Urgent calls have been made to stamp out 'rape culture'.
• Schools abuse helpline launched by NSPCC
• Review into sexual abuse in schools has been set up by the government
• Ofsted to inspect safeguarding in both state and independent schools
• 14,000 posts – and rising – added anonymously to the website Everyone's Invited
Where did the schools sex scandal start?
Following the disappearance and death of Sarah Everard, there was a national outpouring of grief and anger among women and girls. While abduction and murder were specific to the Everard case, many women and girls started to post anonymously on social media about their experience of sexual harassment, abuse and assault in schools.
What is Everyone's Invited?
The website Everyone's Invited saw anonymous posts relating to a number of top schools and prompted an outcry over the 'rape culture' within UK schools. Reports of aggressive behaviour, often of a sexual nature, from boys in schools began to double in number each day. To date, the site has had over 14,000 anonymous posts, some from children as young as nine.

Who is behind Everyone's Invited?
Soma Sara, a former pupil of a girl's boarding school, Wycombe Abbey, in Buckinghamshire, founded the Everyone's Invited Instragram account in June 2020 to share her personal experience of what she called 'rape culture' in schools. Immediately, she received a number of messages from not only those who felt that her experiences strongly resonated with their own, but also those who detailed their own stories of harassment, abuse and assault. The Everyone's Invited website was set up: a movement committed to eradicating rape culture. A number of top public schools were named in the first wave of reports, and both state and private have continued to be named in testimonies.
What schools have been involved in the rape culture scandal?
Eton, St Paul's, Harrow, Hampton and Latymer Upper were among the schools named in the first reports of allegations of rape posted on Everyone's Invited. A small number of state schools and some universities were also named initially, and the list is now growing.
What actions have schools taken so far?
In the wake of over 3,000 reports being posted on Everyone's Invited in just two days, the leader of England's top public schools came forward and said she was willing to refer boys to the police. Sally-Anne Huang, the first female High Master of St Paul's Schools in London and head of the Headmasters' and Headmistresses' Conference, which represents top public schools, said she had seen the Everyone's Invited site and would "investigate fully… informing the police where a criminal act may have been committed."
Have schools reported pupils to the police?
Dulwich College became the first school to report its own pupils to the police. It was reported that staff at the school, where fees are £21,000 a year, identified pupils to the Metropolitan Police in the wake of mounting claims of an endemic culture of sexual abuse and rape at private schools. Joe Spence, the head teacher, wrote to parents to inform them of the action it had taken after receiving allegation of criminal sexual harassment by its students. A number of heads, including Kevin Knibbs, headmaster at Hampton School in southwest London, and Sarah Fletcher, head of St Paul's girls' school, also went on record to say they had written to parents and were investigating claims internally. Knibbs wrote: "We have no tolerance whatsoever of the kind of behaviours highlighted on this website."
What have the police done so far?
Chief Constable Simon Bailey, lead officer for Operation Hydrant, the national task force for child sexual abuse investigations in institutions, announced that his organisation would assess allegations of abuse in schools, and would allocate claims to individual forces to investigate. It was reported that the police would model their approach on the national football child abuse scandal, where police received more than 2,000 referrals involving more than 330 clubs. Bailey called for a national hotline for abuse reports to be set up urgently and said that while the main focus of the first reports had been on private sector schools, there had been reports received from state schools too. "I think it is the next big national child sexual abuse scandal," he said. "It's the 'Me Too' movement for schools. We are dealing with the tip of the iceberg."
How has the government responded to reports of sex abuse in schools?
The Department for Education said it was prepared to close schools if they failed to meet safeguarding standards. Education Secretary Gavin Williamson said: "Sexual abuse in any form is abhorrent and it is vital that these allegations are dealt with properly. While the majority of schools take their safeguarding responsibilities extremely seriously, I am determined to make sure the right resources and processes are in place across the education system to support any victims of abuse to come forward."

What actions has the government taken so far?
The Government has ordered Ofsted to launch an immediate probe into rape culture in schools, and when so-called light touch inspections start after Easter, Ofsted have been asked to focus on sexual abuse in schools.
The Department for Education has also worked closely with the police and the NSPCC to set up dedicated helpline for everyone who needs it.
How do I contact the NSPCC helpline?
The Report Abuse in Education helpline can be reached on 0800 136 663, on Monday to Friday 8am - 10pm, or 9am - 6pm at weekends. It can also be contacted by email at [email protected]
What will Ofsted do now?
Following the announcement by the Department for Education, Ofsted chief inspector Amanda Spielman said: 'Like everyone else, I have been deeply troubled by accounts of the sexual abuse and harassment young people have suffered at school and in the community. So, I welcome the Secretary of State's announcement and the opportunity for Ofsted to lead this review. Schools have a crucial role to play in teaching young people about sexual consent and respect for women and girls." The education watchdog will look at safeguarding policies in state and independent schools and probe the 'extent and severity of the issue'.
Why have current safeguarding policies in schools failed?
It has been reported that an inquiry by the Women & Equalities Committee in 2016 "uncovered the scale and impact of sexual harassment and sexual violence in schools across England" and advised that urgent action was needed. The evidence they gathered, according to the summary of their report, painted "a concerning picture" of harassment and abuse in schools.
Critics say that the government was too slow to bring in sexual assault and harassment guidance for schools which was only formally introduced in 2018. Similarly, compulsory Sex Education was only introduced in 2017. It is thought that the current policies are new and are unlikely to be embedded in school culture, and that their successful implementation has, to date, not been monitored.
Are schools responsible?
One school commentator said this week that private schools ARE responsible for boys' behaviour outside the classroom because they market themselves on developing a child's character. But this has been largely dismissed as parents understand that they have to take responsibility for their children's behaviour – regardless of what they are paying for their education.
It's also become apparent that schools have lacked a stringent government policy and inspection regime.
Robert Halfon, MP for Harlow, said this week: "Even if [schools] had the best safe guarding in the world, implemented rigorously, more needs to be asked about the role of the family and education at home."
Why are there now calls to regulate online pornography?
Pornography has been flagged as being responsible for having an impact on the behaviours of young people. The 2016 inquiry by the Women & Equalities Committee wrote: "Children of primary school age are learning about sex and relationships through exposure to hard-core pornography" and "parents are struggling to know how to support their children" while access to pornography is unregulated.
Social media sites are also flagged as a cause for concern. Sites like TikTok can quickly move from showing dance moves to sexualised content.
A number of high-profile commentators are now calling for the government to make it illegal for pornography to be openly accessible online and make age verification via a credit card mandatory.

What can you do TODAY to address concerns over rape culture in schools?
The NSPCC helpline is available to assist anyone who wishes to report abuse in education or get support.

They Work For You enables you to find and get in touch with your local MP and raise concerns about the issue and government's response to the scandal. You can also set up alerts to get an email every time an issue you care about is mentioned in Parliament.
Everyone's Invited has created an email template so you can write to your old school or university. The template has been written in consultation with individuals from all demographics and sex education professionals. Anyone can use the template, even if you you are not directly affected by abuse or assult, to "help spread awareness of the campaign and create real action within institutions".
The Report Abuse in Education helpline can be reached on 0800 136 663, on Monday to Friday 8am - 10pm, or 9am - 6pm at weekends. It can also be contacted by email at [email protected]